Here you will find teaching and testimony on a variety of subjects, including prophecy, spiritual growth, and issues facing young people.
Come join in the discussion . . .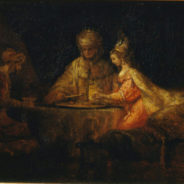 The Holy Spirit highlighted Esther Chapter 8 to me in a significant way during my devotions in mid-November 2016, following the election. I sensed Him saying that there are parallel spiritual realities between what was happening then and what is happening now. Esther 8 follows the hanging of Haman on gallows he'd built for Mordecai (Es. 7:10). Haman was the prideful official whose anger toward God's people, particularly Mordecai, grew murderous when Mordecai refused to bow to him. The chapter begins: On that day King Ahasuerus gave the...
read more