Here you will find teaching and testimony on a variety of subjects, including prophecy, spiritual growth, and issues facing young people.
Come join in the discussion . . .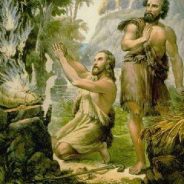 Sleepily you open one eye. You could catch another half hour's wink perhaps. However, this will mean you're scrambling to get to church on time. Reluctantly, you get up, trying to decide whether it's a greater priority to try to get in the scriptures or fry some bacon. Two hours later, you're in the car. The kids are squabbling, you're irritable with your spouse, and your hair smells faintly of bacon. You arrive just in time and cram into a seat. You turn your attention to the words displayed at the front of the sanctuary. This song...
read more