Here you will find teaching and testimony on a variety of subjects, including prophecy, spiritual growth, and issues facing young people.
Come join in the discussion . . .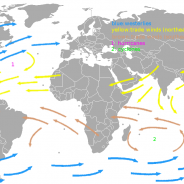 "Prevailing winds." This jumped out at me and resonated in my spirit while reading a book on weather & climate with my daughter. Prevailing winds are the winds that blow consistently in a given direction over the earth and affect rainfall over regions. I believe the Spirit of God is prevailing over the earth in this hour as we travail in prayer, and that it is unstoppable, despite how the powers of darkness are digging in their heels. Specifically, I believe goodness, righteousness, and new government is coming swiftly to North...
read more