Scenes from Childhood
Ainslie Fassbinder is a thirty-something teacher whose quiet existence has always been overshadowed by her younger sister Erin. Upon the death of their mother, the contents of the will send ripples into Ainslie's static life. Reluctantly, she embarks on a journey to Europe, and ultimately, into some truths about herself.
Purchase Paperback       Purchase Kindle Edition
Leaving the Shallows
Is your life marked by fear or by faith? When we catch a glimpse in our spirits of the mightiness of the God we serve, and when we take His words to heart, doors suddenly open where there seemed only to be walls. The prospect of bad news no longer intimidates us. We eagerly anticipate the days ahead. The mundane in life suddenly becomes an adventure. Best of all, we begin to see ordinary people and common events as glorious. God is able and willing. It is the clouded way that we see Him that is often the real problem.
These 40 meditations include teaching and testimony that will encourage your heart and boost your faith to see His kingdom come in your own life like never before!
Purchase Paperback       Purchase Kindle Edition
Fat Jeans
What happens when . . . A housewife discovers one morning that she can no longer fit into her "fat jeans"? An alumnus returns to guest-lecture at his college? An aging woman remembers the night of a fatal accident that claimed the life of her best friend? A girl can't bring herself to stop seeing the "bad boy?" An American returns after many years to Europe for a romantic visit to three castles? A woman hears a startling message and takes it to heart?
Find out in this delightful collection of short stories, which range from allegorical to anecdotal, whimsical to foreboding.
Purchase Paperback       Purchase Kindle Edition
A Taste of New Wine
Vera lives on a beautiful old farm near Lancaster, Pennsylvania. However, a successful job and her pursuit of personal harmony are not enough to placate the restlessness that's been haunting her. Nor can she fully unravel herself from the ramifications of her parents' divorce that took place over a decade ago.
As she wrestles internally with both conventional culture and a dead-end relationship with her boyfriend, Vera finds herself suddenly enmeshed in the complicated problems of those around her. Following a trip to New York City, a mysterious neighbor moves in and brings the melodrama in Vera's life to a head. Against a backdrop of pastoral fields and rural idyll, Vera's search is an intensely personal one for both beauty and truth.
Purchase Paperback       Purchase Kindle Edition
College Bound: A Pursuit of Freedom
College freshman Molly arrives on campus armed with her convictions and an unorthodox sense of humor. But she is unprepared for the full-scale assault on everything she has held to be true, particularly her faith.
The worldly wisdom of unbelieving friends and agnostic professors, the pressure to conform to the godless culture surrounding her, and the freedom from the boundaries of home prove to be formidable giants. Molly's understanding of true liberty is blurred and then brought into focus as what she has been taught is tested against what the world has to offer.
Purchase Paperback       Purchase Kindle Edition
Church Bound: A Bride in Fake Diamonds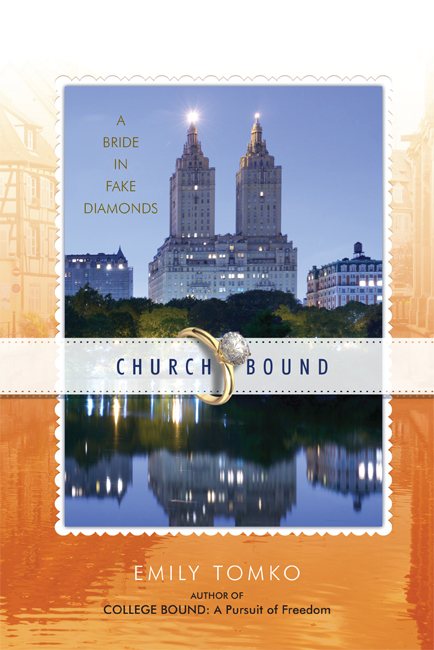 Following a time of prodigal wandering, twenty-year-old Molly returns with a consuming hunger for the things of God. With this passion comes revelation, and she is startled by the sharp disconnect between the Jesus she encounters in the gospels and the one she has grown up learning about on Sunday mornings. Through a series of events, Molly begins to realize that she has been as naïve about the church as she had previously been about the secular world.
Meanwhile, adventure and romance are waiting for her in Europe as she leaves to spend her junior year of college abroad. But Molly will need more than just her unorthodox sense of humor to navigate the nuances of another culture. And a misunderstanding threatens to end her growing romance with a high school friend. Amid the castles and cobblestones of Germany, can her newfound faith withstand the testing that also awaits?
Purchase Paperback     Purchase Kindle Edition
Thirty-one Thoughts on Prophecy
God is still speaking. He has specific thoughts about you and your circumstances. Prophecy, the speaking forth of God's thoughts, is a gift that is being restored to the church after much misunderstanding, misuse, and neglect. Discover how this precious gift is to be used to strengthen the church, and how it may be applied in your own life.