Have you ever stopped to think of Liberty as an attribute of God's nature, just like joy or gentleness, and a manifestation of His kingdom here on earth?
Consider these scriptures:
"Where the Spirit of the Lord is there is Liberty" (2 Cor. 3:17).
"It is for freedom that Christ has set you free. Stand firm and be not encumbered again with a yoke of slavery" (Galatians 5:1).
"For you were called to freedom, brothers. Only do not use your freedom as an opportunity for the flesh, but through love serve one another." (Galatians 5:13).
"Whom the Son sets free is free indeed" (John 8:32).
"You shall know the truth and the truth shall set you free" (John 8:36).
"He has sent Me to bind up the brokenhearted, to proclaim liberty to the captives and freedom to the prisoners" (Isaiah 61:1; Luke 4:19).
"Isn't this the fast that I have chosen: to break the chains of wickedness, to untie the cords of the yoke, to set the oppressed free and tear off every yoke?" (Isaiah 58:6).
The Israelites leaving Egypt and their captors is the great picture of deliverance from bondage that God brings to those who call on His name.
In fact, the inscription on the Liberty Bell contains Leviticus 25:10 and reads, "Proclaim liberty throughout all the land unto all inhabitants thereof."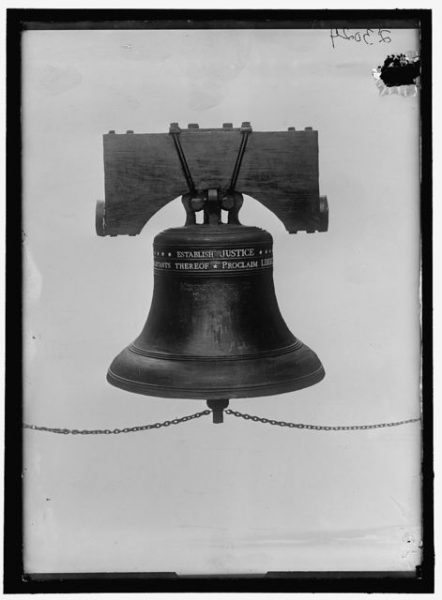 Sin brings Slavery to individuals and to nations
Conversely, all that brings oppression and slavery is of the devil's kingdom:
"He who sins is a slave to sin" (John 8:34)
"Some false brothers had come in under false pretenses to spy on our freedom in Christ Jesus, in order to enslave us." (Galatians 2:4)

"For you did not receive a spirit of slavery that returns you to fear, but you received the Spirit of sonship, by whom we cry, 'Abba! Father!' " (Romans 8:15).

"[False teachers] promise freedom, while they themselves are slaves to depravity. For a man is a slave to whatever has mastered him" (2 Peter 2:19)

"His own iniquities shall take the wicked  and he shall be bound with the cords of his sins." (Proverbs 5:22)
"After King Zedekiah had made a covenant with all the people in Jerusalem to proclaim liberty, the word came to Jeremiah from the LORD
that each man should free his Hebrew slaves, both male and female, and no one should hold his fellow Jew in bondage" (Jeremiah 34:8)
Independence?
As we Americans celebrate Independence, we must recognize two realities:
Our liberty comes from God alone, not the state. Our American government emerged out of Biblical principles and is inherently interconnected with Judeo-Christian beliefs – more so than any other nation on earth. This is why the devil hates it and hates our Constitution, and why those under his yoke are launching a full-scale assault on it in this hour. We have forgotten this and as a result, are in danger of agreeing with the devil in despising our heritage, and in allowing the state to dictate to us its will for our lives – which is neither freedom nor godliness.
The wickedness of our generation is a far greater tyranny than what we fought during the Revolution. Our sin is leading us into terrible bondage. The truth is what sets us free, and the moment you begin to speak it, the servants of the Slaver will try to shame you into shutting up. "You're not being sensitive," "you're not being compassionate," "you're being too political," "you're being divisive" are the catchphrases used by the sons of disobedience (Eph. 2:2).  The enemies of God want to intimidate you to the point you're convinced that opening your mouth to speak the truth is either wrong, or, is an act of futility; and since it comes at a price, you might as well stay silent and safe.
Don't let them neuter you.
Many generations of men gave everything they had so you could walk about in civic freedom. Christ gave up the splendor of Heaven and then submitted to public humiliation and a cruel death so you could partake of spiritual freedom and the liberty out of which came the civic. No more complacency. It's our time to give all we have.